1st FOODCoST MML Workshop
09 May. 2023
External Event | Online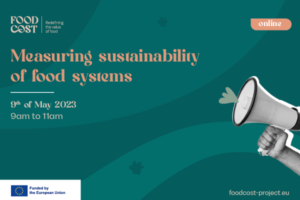 The first FOODCoST Co-creation Workshop, titled "Measuring sustainability of food systems", will be held online on the 9th of May, from 9am to 11am CEST.
Aiming to create a safe and inclusive space, these workshops will be a place where participants will be able to share their insights and perspectives on complex issues and work together to develop innovative solutions, while also looking to provide state of the art discussions about methodology and the potential applicability of True Cost Analysis (TCA). The participants will have a relevant role in helping to establish an innovative TCA concept.
Our MML workshops are designed to promote collaboration and learning between stakeholders from different sectors and backgrounds, such as farmers, the agrifood business, and policymakers.
This will be the first in a series of 12 MML workshops that are to be organised throughout the duration of the FOODCoST project, using inputs from various work packages and from our CoP, with the goal of collecting knowledge and experiences from various external key-actors, covering specific topics regarding methodology and data used to calculate external costs and benefits, as well as policy and business models. The insights collected from the workshops will then also be analysed and discussed within the project's CoP, allowing for a constant exchange of valuable information.
How to participate?
If you would like to participate in our first MML workshop, make sure to fill in this form. You will receive the invitation link after the registration is complete. Please provide your answer until 6 May.
The Draft Agenda is available below: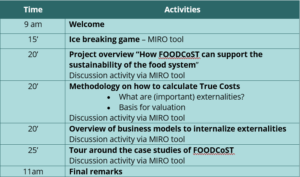 Don't miss your chance to make a difference in the food system by contributing to the development of True Cost Accounting (TCA). Register here: form